About – (SSDF)
Introduction
STEP Skills Development Foundation (SSDF) has been established with the aim to create and explore all possible channels and resources for education and employment in the country by focusing on Youth Employment and Entrepreneurship, Gender Equality , Vocaional Education & Training, Cultural Preservation, Environment & Sustainability and TVET Consultancy .
Our Vision
"To contribute in poverty alleviation efforts by means of providing opportunities and competencies that help in economic and social development."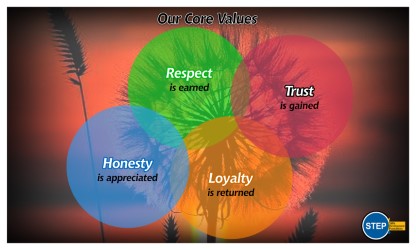 Our Values
Respect is Earned
Trust is Gained
Loyalty is Returned
Honesty is Appreciated
Main Objective
TheMain objective of STEP Skills Development Foundation (SSDF) is to enhance the competence level of individuals and organizations in meeting the industrial requirement by providing economic well-being of individuals (youth & women) through training in different fields and facilitating placement of skilled workforce in the industry for on-job training, internships, apprenticeships and jobs and Promoting TVET in Pakistan.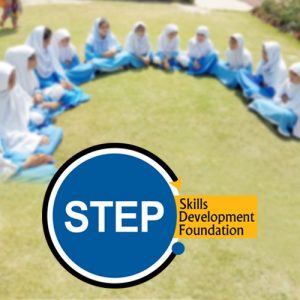 STEP SKILLS DEVELOPMENT FOUNDATION (SSDF) aims at working on poverty alleviation in order to develop and achieve a sustainable environment, Cultural Preservation, Gender Equality, Youth Employment & Entrepreneurship, Vocational Education & Training, and Promoting TVET.
Objectives of STEP Skills Development Foundation are:
To provide technical & vocational education and training through formal and non-formal education for minorities, women, and youth
To contribute to women empowerment by developing skills and capacity building of rural / less privileged women and to support mechanism for their income-generating activities
To enhance the competence level of individuals and organizations in meeting industrial requirement and recognized competencies through counseling, training, consultancy, collaborations, and joint efforts
To set up vocational training literacy centers for adults especially women, minorities, and youth
To support deserving and talented students including women, minorities, and youth by assisting and recommending them for academic scholarships and bursaries
To facilitate training and placement of skilled workforce in the industry by on-job training, internships, apprenticeships, industry-focused & linked training, and jobs
To advocate socio-psychological needs of the youth (regardless of their social status, physical & mental abilities) to opt for different career pathways
To work for environmental awareness and to launch campaigns to promote protection for a sustainable environment
To develop and promote cultural activities and products for enhancing economic opportunities for craftspersons and indigenous communities
To act as a cultural activist for supporting and promoting the culture of regional, ethnic and indigenous communities